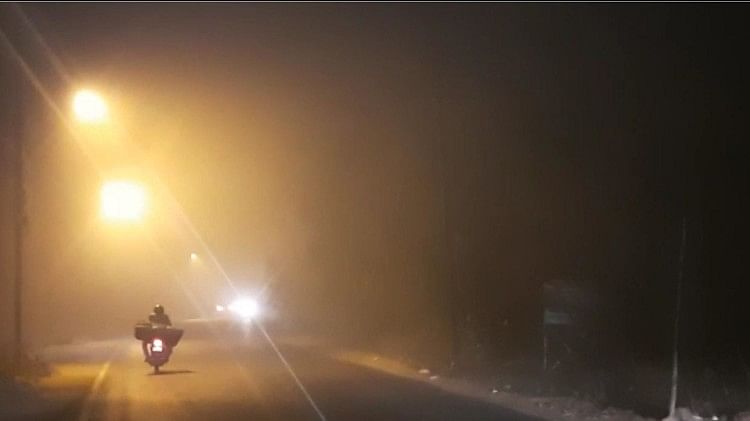 nocturnal fog
– Photo: Amar Ujala
Expansion
Different forms of weather were seen in Uttar Pradesh on Friday. The fog concentration has reduced. While it rained in some cities, the minimum temperature doubled in many areas. And the maximum temperature reached 28 degrees. Meanwhile, the Meteorological Department has said that the mercury will fall again from the night of January 15. On Wednesday, the cloud cover in some areas of the state has gone beyond the state for the time being.
According to Atul Kumar Singh, senior meteorologist of the Regional Meteorological Center, the cold day condition will become active on January 15 and 16. In such a situation, there are chances of fall in mercury. This situation will remain till January 17.
Jhansi's minimum para reached 12.1 degrees
The minimum temperature in Jhansi was 12.1, it was the highest in the state. While it was 11.2 degrees in Aligarh and Orai, 10.3 degrees in Churk. Churk was the coldest on Thursday, recording 5.5 degrees Celsius. Similarly, the temperature in Gorakhpur was 6.2 degrees. The minimum temperature here was 3.8 degrees a day ago.
Jhansi won even in maximum

Not only at night, but also during the day, Jhansi's temperature was 28 degrees, which was the highest in the state. In most areas, the day's mercury remained around 20 degrees or more with a significant increase. It was 24 degree Celsius in Varanasi, 24.5 degree Celsius in Kanpur, 27.5 degree Celsius in Churk, 24.2 degree Celsius in Fursatganj. The mercury remained between 18.5 to 19.8 degrees in Etawah, Lakhimpur Kheri, Basti, Ballia.