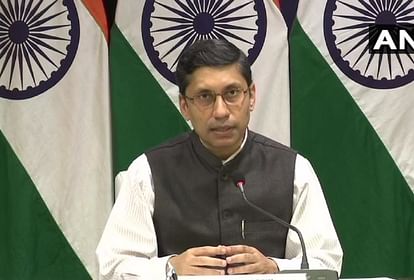 Arindam Bagchi
Photo: ANI
Expansion
The United Nations Security Council (UNSC) on Monday designated Pakistan-based terrorist Abdul Rehman Makki a global terrorist under its ISIL (Daesh) and Al-Qaeda Sanctions Committee. Responding to this step of the UNSC, the Indian Ministry of External Affairs has expressed happiness. Foreign Ministry spokesperson Arindam Bagchi said that we welcome the decision of the UN Security Council to designate Lashkar terrorist Abdul Rehman Makki as a global terrorist by the ISIL and Al Qaeda Sanctions Committee.
Significantly, Abdul Rehman Makki is also the brother-in-law of Lashkar leader Hafiz Saeed. Not only this, Makki has also played many roles for Lashkar. This includes raising funds for the organization in a variety of ways.
Welcome to the decision to declare Makki a global terrorist

Hailing the move, Ministry of External Affairs spokesperson Arindam Bagchi said the threat posed by terrorist organizations remained high in the region. The listing and sanctions by the UNSC are an effective tool in curbing such threats and dismantling the terrorist infrastructure in the region.
He further said that India is committed to pursue zero tolerance approach towards terrorism. India will continue to press the international community to take credible and irreversible action against terrorism. We will not tolerate any terrorist activity.

The Ministry of External Affairs informed that India had prepared a list of Pak-based terrorists during its UNSC tenure during 2021-22. During 2022 India presented 5 names under 1267 ISIL (Daesh) and Al Qaeda Sanctions Committee. Among them were Abdul Rehman Makki (LeT), Abdul Rauf Asghar (JEM), Sajid Mir (LeT), Shahid Mehmood (LeT), Talha Saeed (LeT).
There was initially a technical hold by China against designating each of these 5 names as global terrorists, while all other 14 members of the UNSC agreed to their listing. The case of maize was presented in the Council on 1 June 2022 by India. America had also expressed its consent on this support of India. Then China imposed a technical moratorium on 16 June 2022. After 6 months, again in the middle of December, India again escalated the issue.

Know who is Abdul Rehman Makki?

Abdul Rahmani Makki is a member of Jamaat-ud-Dawa, the terrorist organization of Hafiz Saeed, the mastermind of 26/11 Mumbai attacks. Apart from the Makki Pakistan Islamic Welfare Organization Ahl-e-Hadith, it also dominates the Lashkar-e-Taiba. Makki Hafeez was Saeed's most special relative who always supported him loyally in his black game. Makki was always ahead in plotting against India. Makki had also hatched a dangerous conspiracy to terrorize Mumbai. He has been involved in recruiting and radicalizing youth to raise funds, recruit and plan attacks in India, particularly in Jammu and Kashmir. He has been holding various leadership roles within the US designated Foreign Terrorist Organization (FTO) Lashkar. He has also played a role in raising funds for Lashkar's operations.
India and America have already declared terrorists

India and the US had also introduced a joint resolution to designate Makki as a Global Terrorist under 1267 ISIL (Daesh) and Al Qaeda Sanctions Committee of the United Nations Security Council (UNSC). However, in June 2022, China stopped it at the last moment.
Property will be confiscated, travel will be banned

The United Nations said in a statement that on 16 January 2023, the Security Council Committee on ISIL (Da'esh), Al-Qaeda, and Related Individuals, Groups, Undertakings and Entities adopted resolutions 1267 (1999), 1989 (2011) and 2253 (2015) ) approved it accordingly. The policy, set out and adopted in paragraph 1 of Security Council Resolution 2610 (2021), will include asset freezes, travel restrictions and arms embargoes.