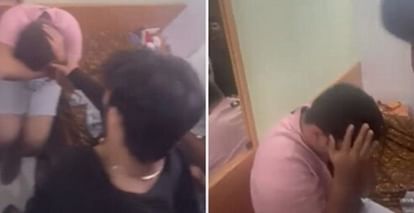 viral video screenshot
– Photo: Social Media
Expansion
The video of a student being thrashed in a private college in Hyderabad is going viral. In this case, the son of Bandi Sanjay Kumar, president of Telangana BJP, has been accused. Police have registered a case on the basis of viral video and started investigation. On the other hand, prisoner Sanjay Kumar says that his son is being implicated under politics. A video of Mahindra University of Hyderabad is going viral on social media. In which it is seen that a young man is beating another young man.
Bandi Bhagirath Sai, son of Telangana BJP President Bandi Sanjay Kumara, is being told the accused of beating the student. It is seen in the video that a friend of Bhagirath Sai is also slapping the victim. The victim youth has been identified as Shriram, who is studying in the university itself. In another video Shriram is sitting and accused prisoner Bhagirath Sai and several other youths are standing around him and slapping him. According to sources, a young man named Shriram misbehaved with the sister of a girl studying in Bhagirath Sai's class, for which Bhagirath and his friends beat him up.
After heating up the matter, a video has been released from the office of the prisoner Sanjay Kumar, in which the victim youth Shriram is admitting that he misbehaved with the girl, due to which she was beaten up. Sriram had sent objectionable text messages to the girl. On which the girl's sister complained to Bhagirath, who was studying in her class. Shriram also says that this matter is two months old and now an agreement has been reached between the two.
On the other hand, BJP state president Bandi Sanjay Kumar says that this has happened at the behest of Chief Minister Chandrashekhar Rao under politics. He said that students fight and settle later but children should be kept away from politics. Sanjay Kumar alleged that only on the behest of CM Chandrasekhar Rao, the university administration has registered a case in this matter. Presently the police is investigating the matter.