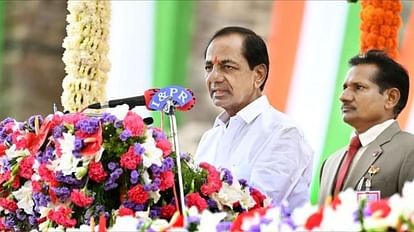 Chief Minister of Telangana K. Chandrasekhar Rao
Photo: Facebook/KCR
Expansion
The ruling Bharat Rashtra Samithi (BRS) in Telangana will hold a public meeting in Khammam town on Wednesday. The rally will also be attended by Delhi Chief Minister Arvind Kejriwal, his Punjab counterpart Bhagwant Mann, Kerala Chief Minister Pinarayi Vijayan, Samajwadi Party leader Akhilesh Yadav and CPI's D Raja. This is the first public meeting after the Telangana Rashtra Samithi (TRS) was renamed as BRS. That is why this meeting is politically important. Apart from this, all the opposition parties like- Aam Aadmi Party (AAP), SP and Left leaders will all be seen together.
The visiting leader along with BRS President and Telangana Chief Minister K Chandrasekhar Rao will visit the Lord Lakshmi Narasimha Swamy Temple at Yadadri near Hyderabad on Wednesday before leaving for Khammam. This temple has been extensively renovated by the Government of Telangana.
Senior TRS leader and former MP B Vinod Kumar said on Tuesday that he would also attend the launch of the second phase of the Telangana government's eye screening program 'Kanti Velugu' in Khammam, about 200 km from Hyderabad. During this, he also made many allegations against the BJP. He said that the spirit of the Constitution including secularism, socialism and freedom is getting weakened under the present BJP-led NDA regime. He said that BRS is trying to bring 'alternative politics' in the country.
The Election Commission had approved the renaming of TRS as BRS in December, 2022. Then after hoisting the pink colored flag of the BRS, the Chief Minister of the state, KCR, had expressed confidence that the pink flag would one day fly high on the Red Fort. During that time, while addressing the party leaders, he gave the slogan 'Abki Baar Kisan Sarkar' (this time the farmer's government).

Meanwhile, state BJP president and MP B Sanjay Kumar hit out at KCR for taking chief ministers of other states to the Yadadri temple. He tweeted that the temples have become business centers for the Kalvakuntla family. Yadadri development is an investment and public contributions to the holy hundi are the returns. He asked the question whether KCR is taking chief ministers of other states to show them Hindu temples as an investment opportunity before the BRS Khammam meeting?