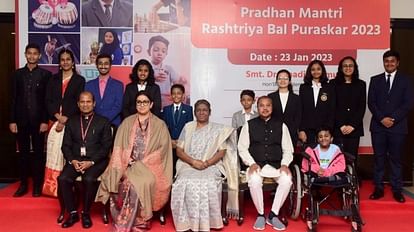 National Child Awards 2023
– Photo: Social Media
Expansion
Pradhan Mantri Rashtriya Bal Puraskar 2023: President Draupadi Murmu conferred the Pradhan Mantri Rashtriya Bal Puraskar 2023 to 11 children at a function held at Vigyan Bhawan, New Delhi on Monday, January 23, 2023. The Prime Minister's National Child Award has been given to children in the age group of five to 18 years for excellence in six categories – art and culture, bravery, innovation, academics, social service and sports.
This year, the PM Rashtriya Bal Puraskar (PMRBP) was awarded to children selected for exceptional achievement in the fields of art and culture (4), bravery (1), innovation (2), social service (1), and sports (3). was done. A Mallakhamb player, a singer suffering from orthopedics and a YouTuber are among 11 children to receive the Prime Minister's National Child Award, 2023. There were six boys and five girls among them. Each awardee received a medallion, a cash prize of Rs one lakh and a certificate.
they were honored
Awardees include singer Aditya Suresh, dancer M Gauravi Reddy, 12-year-old tabla artist Shreya Bhattacharjee, Rohan Ramchandra Bahir in the bravery category, Aditya Pratap Singh Chauhan and Rishi Shiv Prasanna in the innovation category, 10-year-old national level Mallakhamb player Shauryajit Ranjitkumar Khaire. and SQAY martial arts player Hanaya Nisar etc.