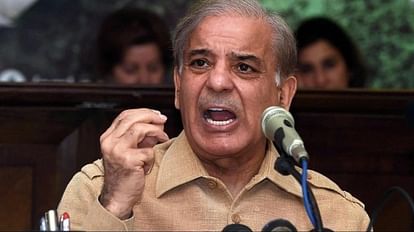 Pakistan crisis
– Photo: Social Media
Expansion
The Government of Pakistan, which is facing a huge economic crisis, now seems to be stuck in the middle of nowhere. In fact, the Shehbaz government, which is suffering from poverty, is currently in dire need of financial help, for which it needs to reach out to the International Monetary Fund (IMF). But IMF has agreed to give money, but the institution has put some conditions, if accepted, the Pakistani government may face a severe blow in the upcoming elections. Let's understand what is the matter after all?
IMF laid the condition

According to media reports, the International Monetary Fund (IMF) has put seven conditions in front of Pakistan, which the Pakistani government is reluctant to accept, because if it accepts these conditions of the IMF, then the public may get angry in the elections. Now let's talk about what are the conditions put forward by the IMF, which the Government of Pakistan is refusing to accept. In fact, IMF has put conditions like withdrawal of electricity subsidy, linking of gas prices with the international market and free-floating dollar in front of Pakistan, which if accepted, the Shahbaz government may face a setback on the political front.
Inflation is sure to increase if IMF conditions are accepted, public will be angry

The ruling Pakistan Muslim League (Nawaz) (PML-N) fears that implementing some of these demands will increase prices of all essential commodities. The Pakistani government would like to avoid taking such a risk so close to the elections. General elections are to be held in Pakistan after August. However, Pakistan Tehreek-e-Insaf (PTI) chairman and former Pakistan Prime Minister Imran Khan is demanding mid-term elections.
It is difficult for Pakistan to get out of the crisis

Pakistan had accepted the conditions of the IMF in the year 2019 and got the approval of the IMF program of about Rs 48000 crores but now the elections are round the corner and the economic crisis is giving different troubles. In such a situation, the Shahbaz government does not want to take any risk in the elections by accepting the harsh conditions of the IMF. There are reports that the IMF may not release more funds under the program until the promises made by the government are met.

The IMF board had approved the seventh and eighth review of Pakistan's bailout program in August.

The IMF board had in August approved the seventh and eighth review of Pakistan's bailout programme, allowing for a cash release of over Rs 8,000 crore. Pakistan's electricity regulator has already allowed Sui Northern Gas Pipeline Limited (SNGPL) and Sui Southern Gas Company (SSGC) to hike tariffs by up to 75 per cent, subject to cabinet approval. Islamabad is looking forward to the 9th review of the loan arrangement that the previous government signed with the IMF. The review will lead to the release of the next tranche of funds to Pakistan which is pending since September.