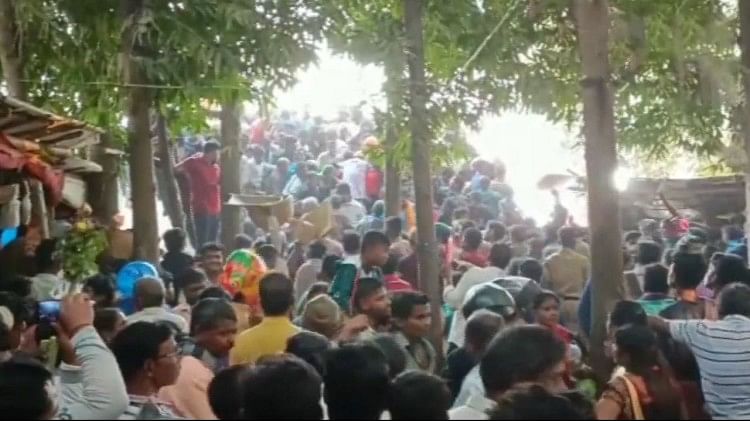 Accident in Cuttack.
Photo: ANI
Expansion
During the Makar Mela in Cuttack, Odisha, an incident of stampede has come to light on the Badamba-Gopinathpur T-Bridge. A woman was killed and 20 others were injured in the stampede, four of whom are in critical condition. A police officer said that the incident occurred due to the gathering of a large number of people on the Badamba-Gopinathpur T-bridge on the occasion of Makar Mela.
CM expressed grief

Chief Minister Naveen Patnaik has expressed grief over the incident. Along with this, he has announced an ex-gratia of Rs five lakh each to the next of kin of the deceased. CM Naveen Patnaik has also issued a statement. In this, he wished the injured in the accident to get well soon and said that the injured would be treated free of cost.
Badamba-Narsinghpur MLA and former minister Debi Prasad Mishra said that a 45-year-old woman named Anjana Swain has died in the incident. At the same time, the condition of four people is critical. Who were admitted to SCB Medical College Hospital in Cuttack city. Mishra said the other injured have been admitted to the Community Health Center (CHC) in Badamba.
Athagarh sub-collector Hemant Kumar Swain said the incident occurred due to a sudden increase in the number of devotees, including women and children, who came to the fair in the afternoon to pay obeisance to Lord Singhnath. The district administration says that the fair was very crowded as people were visiting the temple after a gap of two years due to the Corona pandemic. According to the sub-collector, a large number of devotees from Cuttack, Khordha, Puri, Angul, Dhenkanal, Boudh and Nayagarh districts visited the temple.