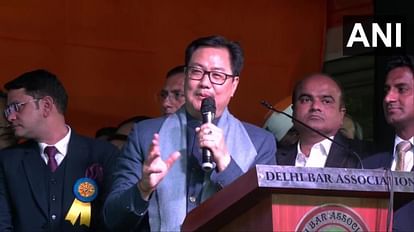 Kiren Rijiju
Photo: ANI
Expansion
The ongoing confrontation between the Central Government and the Supreme Court Collegium is not taking the name of stopping. Meanwhile, Union Law Minister Kiren Rijiju has said that democracy in India should not only survive but also move forward strongly, for that it is necessary to have a strong and independent judiciary. Democracy will not be successful if we weaken the independence of the judiciary or reduce its authority, honor and dignity.
The Union Law Minister was addressing a function organized on the occasion of Republic Day at Tis Hazari Court Complex. He said that the public does not choose the judges, therefore cannot change them, but the public is also watching and assessing the judges, their decisions, their working methods and their method of delivering justice, and that But she is also forming her thoughts. Nothing can be hidden in this age of social media.
Rijiju said that judges do not have to face election or criticism like us. If the public elects us again, we will come to power, otherwise we will sit in the opposition and question the government. On the other hand, if a person becomes a judge, he does not have to face election, there is no public scrutiny and he is not asked any questions.
During a program, he said that I wrote a letter to the CJI, about which no one knew. Don't know who came to know from where and made news that the Law Minister wrote a letter to the CJI that there should be a representative of the government in the collegium. There is no head and foot in this matter. Where do I put another person in that system?

#WATCH , "After becoming judges, they don't have to face elections or scrutiny by the public," says Union Law Minister Kiren Rijiju pic.twitter.com/4aLPjLoGrk

— ANI (@ANI) January 23, 2023
Amid the raging debate over changes in the collegium, he said it was wrong to think that the established system cannot be changed or questioned. Don't know how many changes have happened since 1947. The system changes according to the circumstances and therefore there have been more than 100 amendments in the constitution as well. When challenges come, they also bring changes. Even when the Supreme Court gives a decision, the larger bench interprets it in detail and gives it a new shape.