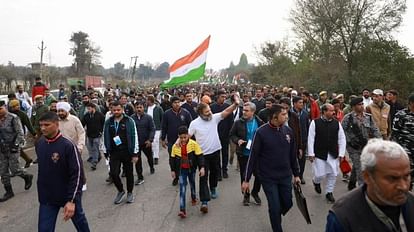 Bharat Jodo Yatra
Photo: Samvad
Expansion
Starting from Kanyakumari under the leadership of Congress leader Rahul Gandhi, Bharat Jodo Yatra passing through Kathua, Samba and Vijaipur will reach Jammu today amid tight security. After a grand welcome at Kunjwani Chowk, the main event is to be held on the Jammu-Kathua National Highway near the Gurdwara (Ashok Nagar), a little behind Satwari Chowk. Route diversion has been done regarding the journey. Vehicles coming to the city from the highway will be allowed to enter through Kunjwani Chowk. These vehicles will be allowed through Narwal.
Bharat Jodo Yatra on its 129th day will start from Vijaypur at 7 am on Monday. As per the schedule, Rahul Gandhi will address a huge public meeting at Satwari at 11 am. Leaders of several national and regional political parties are expected to attend the public meeting. Big leaders like Digvijay Singh, Jairam Ramesh have been involved in the yatra. Former Punjab Chief Minister Charanjit Singh Channi was also seen with Rahul Gandhi on Saturday.
After this, the Yatra will take a night rest at the Forest Security Force ground at Sidhada. After the blast in Narwal Mandi area of ​​Jammu on Saturday, the security of the places of travel and of Rahul Gandhi has been further increased. The yatra will conclude on January 30 at the Sher-e-Kashmir Maidan in Srinagar.
One-way highway will remain open
The Jammu district administration has asked to keep the one-way highway open in Satwari. In which the movement of light vehicles will continue. During the yatra, there will be a press conference of Rahul Gandhi on the Jammu route.

Rahul Gandhi will meet Kashmiri Pandit families
Rahul Gandhi will meet Kashmiri Pandit families on reaching Jammu on Monday during Bharat Jodo Yatra. Will listen to their sorrow and pain. Later a press conference will be organized. Will meet PRI members after 3 pm.
Yatra will start near Nagrota checkpost on January 24
According to former minister Yogesh Sahni, the yatra will start from Sheetli (near Nagrota checkpost) at 8 am on January 24 as per the schedule. The Army Gate Ramble will go up to Udhampur via the old route of Nagrota. The next day, on January 25, at 8 am, the Yatra will start from Maitra Ramban, stop at Khobag and leave for Harpura Banihal at 2 pm. During this, a corner meeting will be organized at Langed Banihal at 4 pm. The yatra will be rested on Republic Day.