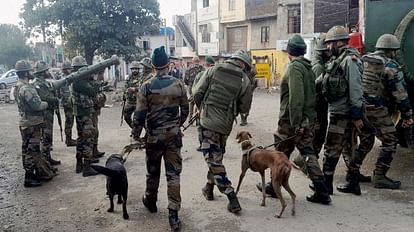 Security forces investigating after the blast in Narwal
Photo: ANI
Expansion
Two blasts occurred at a distance of 50 meters in 16 minutes in the Narwal Mandi area of ​​Jammu, which shook the entire area. Nine people were injured in these blasts that happened one after the other. Police suspect that IEDs were used by the suspected terrorists in both the blasts.
The first blast took place in an old Bolero, then the second blast took place 50 meters away in another vehicle parked at Transport Nagar Junkyard. The injured have been admitted to GMC Jammu. One of them has a stomach injury while two have broken leg bones. The condition of all the injured is stable.
After the incident, the entire area has been sealed and shops have been closed. On Sunday, the National Investigation Agency (NIA) team investigated the entire area and interrogated some people. A special team of the Jammu and Kashmir Police is also probing the matter.
These blasts have been carried out by suspected terrorists in Jammu at a time when the entire security staff is on high alert in view of Rahul Gandhi's Bharat Jodo Yatra which is to arrive two days later and on 26 January. Rahul's visit is to reach Jammu on 23 January. Eyewitnesses said that the work was going on smoothly like any other day.

Meanwhile, at around 11 am, there was an explosion in a Bolero vehicle standing there for repair. In this, five people standing near the vehicle were injured. All of them covered in blood were taken to the hospital for treatment. Meanwhile, an old vehicle also exploded in a junkyard 50 meters away.
Four more people were injured in the blast. All of them are being treated at GMC. Police, Army and CRPF officials reached the spot as soon as the incident was reported. Immediately the area was sealed. With this the search operation was started.

All suspicious places were searched. It is said that during this time broken pieces of a mobile have also been found, which have been taken into custody. Police say that it is not clear whether it is related to the incident or not. The forensic team also reached the spot and collected evidence. Bomb disposal squad and sniffer dogs were also deployed to get clues.