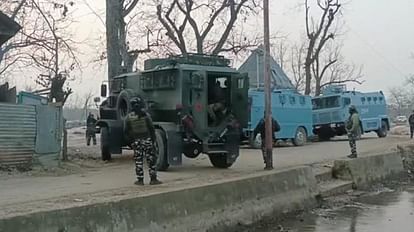 encounter
Photo: File
Expansion
An encounter broke out between security forces and terrorists near the district court complex in central Kashmir's Budgam district. Two terrorists have been killed in this encounter. The security forces have also recovered arms and ammunition from them. At present the search operation is going on.
The police officer said that a special input near the Budgam district court complex was barricaded by a joint team of army and police. During this, an attempt was made to stop a suspicious vehicle. The terrorists started firing as soon as they got a clue of this. Two terrorists have been killed in retaliation by the security forces. Arms and ammunition have also been recovered from the terrorists. A search operation is also being conducted in the area.
ADGP Kashmir Vijay Kumar told that both the terrorists have been identified. These include Arbaaz Mir and Shahid Sheikh. Both were residents of Pulwama and were associated with banned terrorist organization Lashkar-e-Taiba. Both the terrorists were absconding in the recent encounter.
The terrorists had escaped on Sunday
Earlier on Sunday, the first encounter of this year took place in Redbug Magam area of ​​Budgam district. In this encounter, the terrorists managed to escape by dodging. Initially firing continued from both the sides, but after some time the firing from the other side stopped. However, the security forces kept the front so that the terrorists could not get a chance to escape. Even after a long time there was no firing from the other side, then the security forces started a search operation. During this, it was learned that the surrounded terrorists escaped.