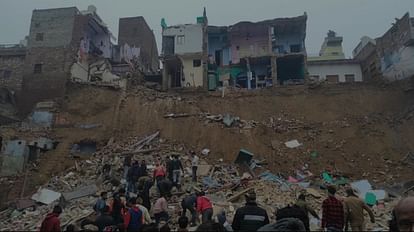 Agra wall collapses
– Photo: Amar Ujala
Expansion
A major accident took place on Thursday morning in front of City Station on Ghatiya Road in Agra district of Uttar Pradesh. During the excavation in the old Dharamshala, five houses and a temple in the vicinity collapsed. Five people including father, daughter and son living in a house got buried. There was a stir on the news of the accident.
People around came out. He tried to clear the debris. Police reached on information. The police took everyone out after an exercise of about an hour. He has been admitted to the hospital. The condition of a girl child is serious.
Arvind Kumar, Inspector in-charge of Police Station Hari Parvat said that the accident took place at 7:30 am. The old Dharamshala remains, in which excavation work was going on for many days. Nearby houses had cracked.
In the morning the houses collapsed. People around started relief and rescue operations. Some debris is being removed to see whether someone else is buried or not. No one has been confirmed dead yet.