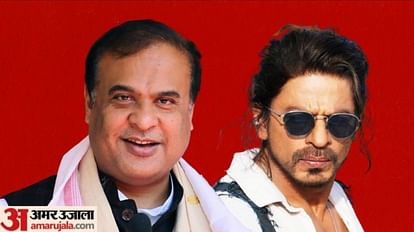 Himanta Biswa Sarma, Shah Rukh Khan
– Photo: Amar Ujala
Expansion
Assam Chief Minister Himanta Biswa Sarma on Monday clarified that he still does not know much about Shah Rukh Khan and hardly watches films. Sarma also said that he has little knowledge about the Hindi film industry. Sarma's comment comes amid criticism of his conversation changing from 'Shahrukh Khan Kaun Hai' to 'Shah Rukh ne mujhe call kiya'.
He said, I have seen films of Amitabh Bachchan, Dharmendra and Jitendra. I still don't know much about Shah Rukh Khan. I haven't seen more than six to seven films since 2001. Regarding his conversation with Shah Rukh, Sarma said that he had received a text message from the actor at 7:40 pm on Saturday, which said, 'I am Shah Rukh Khan. I want to talk to you."
He said, 'There were many people in the queue who wanted to talk to me. After clearing them, a message was sent to him (Shah Rukh) at 2 am on Sunday, in which it was written that I am available for the call. After that he called me and said that his film is releasing soon and he hopes there will be no problem.
On the boycott call against the film, Sarma said those who are willing to watch the film will do so and others can skip it. The chief minister asserted that his government would not allow Assam's name to be tarnished.

When asked about the statement 'Who is Shah Rukh Khan', the Chief Minister said, 'Why should I know him? I really didn't know he was such a great guy… I don't watch movies much. I know about old actors. The fascination for stars varies across generations.
"Besides, I do not know the entire three crore people of the state or even my voters, to whom I am indebted," he said. Referring to right-wingers tearing posters of 'Pathan', Sarma said tearing posters was not a crime and wanted to know under which law they should be booked.

Posters of politicians are torn all the time but there is no discussion on it, he said. Now the time has come for people to change their mindset. Bajrang Dal activists had recently barged into a cinema hall in Narengi area here, tore posters of 'Pathan', burnt them and raised slogans against the film. 'Pathan' starring Khan, Deepika Padukone and John Abraham will hit the theaters on January 25.